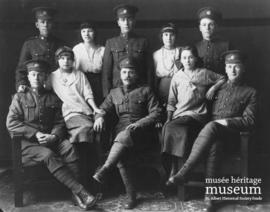 First World War Service men and family
Image shows six men in First World War uniform and four young girls, who are their sisters and a niece.
Back row: Napoleon Gagnon, Alice Gagnon, Frank Johnson, Annie Donahue, Hermidas Gagnon.
Front row: Lawrence Gagnon, Mary Donahue, Jack Donahue, Georgina Marois (the Gagnon siblings' niece), and Daniel (Don) Kennedy.